Educator Update Newsletters - Sent to all Administrative, Teaching and Support Staff in all Locals and the HISD
HISD Newsletters - Sent to all Locals and HISD Board of Education Members
Profile of Services: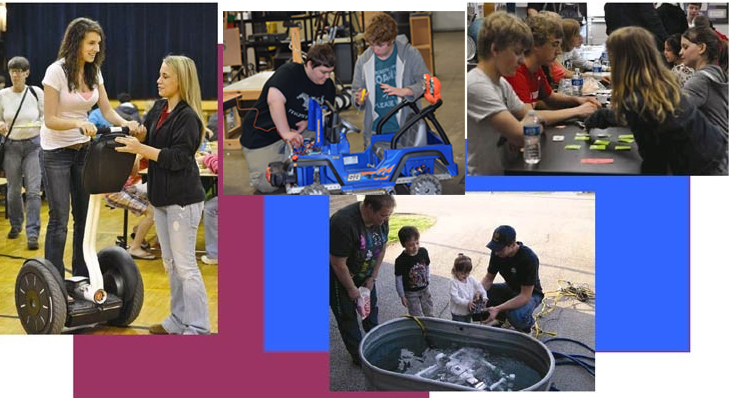 Who Are We and What Do We Do?
Established in 1962, the Huron Intermediate School District is a regional, educational agency that serves students, families, and communities in Huron County. Our direct customers are local school districts and their students and families.
With about 145 employees, we are dedicted to educational leadership, effective programs, and quality services in collaboration with community partners to educate all learners. We take our role in assisting schools and communities very seriously.
| | | |
| --- | --- | --- |
| | This Profile of Services tells of the many ways in which we serve Huron County. Please feel free to contact us at (989) 269-6406 if you have any questions or want to discuss this Profile of Services. | |
Serving:

Bad Axe Public Schools

Caseville Public School

Elkton-Pigeon-Bay Port Laker Schools

Harbor Beach Community School District

North Huron School

Owendale-Gagetown Area School District

Ubly Community Schools

Adams School

Big Burning School

Church School

Eccles School

Verona Mills School

HISD operates the Huron Learning Center and Huron Area Technical Center


Also serving the
Parochial Schools of Huron County

General Education Programs and Services

General Education Services for local districts include:

Curriculum consultation in all subjects


Support Multi-tiered System of Supports

Teacher consulting in math, literacy, science, and instructional technology

CKLA Pilot support - new K-5 core reading program

Assessment Supports, including collection and analysis of screening, diagnostic, formative assement options and state data analysis

Professional Development-100-200

high-quality

training events each year based on educator surveys


Provide professional development in local schools

School Improvement and Accreditation support


Thumb Area STEAM Showcase student and community event

Instruction to students such as IVD, Mother Nature's Classroom, STEM 6-7-8, VEX and VEX IQ Robotica Programs, StarLap, 3-D Prinitng, Drones, Ozobots, Laser Cutting and Engraving

Certification assistance for teachers/administrators


K-8 Rural Districts-support with administrative leadership and evaluations

Guidance on MDE and Federal mandates including Personal Curriculums, Graduation Requirements/MMC, Title services, and SCECH applications


Send monthly electronic updates to all educators

Coordinate countywide Professional Learning

Truancy-assist administrators, Truancy Officers, and court system to ensure regular school attendance

Maintain a Professional Library including PLC book sets

Coordinate College Access Network

Offer ETS Parapro Testing to meet Highly Qualified guidelines

Pupil Accounting-audit student counts, document attendance

Coordinate tri-county New Teacher Academy and MI-STEM Network

Share English Learner requirments and supports

Community Outreach such as parenting classes, Family Engineering Nights, Family Exploration Packs for every K-2 student in county, Grade 2 Publishing Contest, and Thumb Area STEAM Showcase event

Maintain fiber network and Fortigate software for county

Host Monthly Principal's and Superintendent's Meetings

Early Childhood Programs and Services
To assist parents and the community in providing high-quality, early-year experiences and a great start for all children in Huron County, we provide an array of early childhood programs and services to ensure children arrive at the kindergarten door safe, healthy, prepared, and eager to succeed in school. These services are provided at no cost to families and include the following (* indicates eligibility requirements):
Great Start Collaborative-coordinates and improves services so families have the resources they need to have healthy, safe, and happy children who are prepared for school and life success

Parent Coalition- provides a "customer" perspective and serves as a sounding board for the Great Start Collaborative, helps to carry out the activities of the collaborative and works to increase community awareness about the importance of early childhood

Partnership with Huron County Child Abuse and Neglect (CAN) Council-provide evidence-based programs to support the prevention of child abuse and neglect

Parent education and community education classes-classes held quarterly
Playgroups-parent child playgroups offered monthly

Parents As Teachers-home-based parent education and family support services for families who are expecting or with children up to age 8
Great Start Readiness Program*-preschool for children who are four years of age by September 1 of the current school year
Project Find-free developmental screenings
Early On*-teaching and coordination of in-home services such as physical, occupational and speech therapies
Early Childhood Special Education*-preschool program for special needs children, ages 3 through 6 who qualify for services based on formal evaluation.


Special Student Programs and Services

Special Education programs and services of Huron ISD encompass specialized instruction, programs, and services offered to approximately 700 hundred students idnetified as eligible for special education. Based on student need, these programs and services assist students to gain access to the general curriculum, participate in transition opportunities, and develop skills necessary for self-sufficiency. The Huron Learning Center provides specialized programs for students with the most significant needs who can benefit from more intensive instruction in a center-based setting.

Educators and staff members share in professional development that expands and enriches the learning environment. Families are connected with resources and offered opportunities to actively engage in their child's education. The Parent Advisory Committee (PAC) provides direction for parent's training and fosters communication within local school districts.

Services provided by Huron ISD may include, but are not limited to:

Board of Education

Janice Holz
President

Gene Holdwick
Vice President

Emily Turner
Executive Secretary

Michael Krause
Treasurer

Christopher Jahn
Trustee

Joseph Murphy
Assistant Secretary

Administration

Joseph W. Murphy
Superintendent

Karen Currie
Director
General Education

Carol Brown
Director
Special Student Services

Lane Walker
Director
Career/Technical Education

Julie Williams-Muz
Director
Financial Operations
Career/Technical Education Programs and Services

The Huron Area Technical Center's primary focus is providing Career/Technical Education to juniors and seniors from our K-12 districts in the following programs:

Automotive Technology

Construction/Building Technology

Electrical/Wind Energy Technology

Hospitality/Food Services

Power Technology

Architecture, Engineering, Design

Cosmetology

Health Sciences

Law Enforcement/Public Safety

Marketing

Professions in Education

Visual Communications

High school and adult learners receive college credit, state certification, on-the-job training, work-based experiences, and participation in state/national student organizations.

We also offer an alternataive education program, adult apprentice training, GED prep and testing, adult CNA, adult enrichment, and EDP development. Hosting Mid-Michigan dual-enrollment, HATC is also the site of community/business partnerships and training.
Business Services
The Business Services department of the Huron ISD consists of dedicated professionals whose goal is to contribute to the successful education of all students through sound fiscal practices. Staff oversee daily transactions and all financial services including budgeting, financial reporting and analysis, grant processing, cash flow monitoring, external audit planning/preparation, insurance benefits, retirement benefits, payroll processing and reporting, criminal record checks and fingerprinting, and accounts payable and receivable processing.
| | |
| --- | --- |
| The Business Services department also provides leadership to our seven local school districts and the five K-8 districts. The Director of Financial Operations meets regularly with local school business managers and HR/PR staff to facilitate collaboration and provide updates on legislative changes which affect school finance. | |
The Business Services department offers the following services to our local and K-8 school districts:


Budget development, monitoring, and analysis

Cash flow monitoring

Financial reporting and analysis

Payroll processing and reporting

Accounts payable processing and reporting


Cash receipt processing

Insurance benefits

External audit planning and preparation

Retirement benefits

Negotiations

Grant processing

A Message from the Superintendent . . .

The Huron Intermediate School District provides leadership and service in the areas of general education, special education, and career-technical education. It is our goal to promote excellence while serving all of our local districts, which includes seven K-12 public schools, five K-8 rural schools, and four parochial schools.
We are committed to promoting student achievement for all students. We work with local districts to provide high-quality teaching and solid core programs for all children. We will continue to have the flexibility to meet the ever-changing needs of all of our constituent schools and promote learning for all students.
Literacy is a focus for all students in Huron County. We continue to promote collboration and cooperation among all schools in our county. We strive to be a great community partner and improve the lives of all citizens of Huron County. This Profile of Services highlights our numerous services and programs offered at the Huron Intermediate School District. We are proud of our programs and the outstanding staff who administer them.
It is our vision to Learn...Lead...Serve...

.